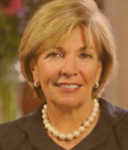 "Make it very clear who your children can lean on,
and who can reassure all of you,
and who knows what your expectations are."
I only want to draw my kids close to me. Is this intense family time going to make it harder for them as I get sicker and when I am gone?
This experience will all be so personal, and your personal style will be clear. That said, it gets complicated. The longing for closeness is natural. Enjoy the closeness with your children, and know that in the very last stages, a pulling away will also happen, naturally. Nature is very sequential, and will help you.
My teenager seems so mad at the world now. How can I help her?
If she is acting angry or annoyed or rude, it's because she is really mad at Mom for doing this to her, just when she really needs you. Teenagers are so egocentric. It's hard. If your child is just 14 or 16 or 20, it may be too painful for them to watch you fall away, out of their hands. They may start working more hours, staying away from home. Try to understand. It's just probably not going to go the way the made for TV movies show it. Even now, even if you are so sick, don't expect compassion. It may help to remember: it's always about the child, first. It can feel unfair, and it is unfair. But at the end of the day, your child is needier. She is a child.
How can I help my child make sense of the senselessness of my diagnosis? We have always been very open and honest.
Adolescents from age 12 on can really be quite philosophical, and even existential. Often they do want to explore these thoughts, but usually can't do that with mom. Find an adult who can have this conversation—your sister, a close friend, someone who can be open and real conversation partner.
I am worried about how profoundly losing me will affect my teenager. So far she has been a well-adjusted child with good grades. She now seems to be withdrawing, etc. Will she ever go back to being her "old self"?
We all add experiences to who we are, and go on. It depends on how mature your child is, what kind of resources and relationships she has. But really how your child will be in the future has most to do with her history before you got sick. If your child was resilient before, she will continue to be resilient. It is a huge change; life will be different. But you don't lose what you had before. And most importantly, the relationship with you is still there, even when you are no longer alive, there is a real relationship.
What is most important? To talk about what is happening, or just be together?
Again, that depends on your style and your family's style. There is no one-size-fits-all. If you can draw in the people who will be loyal to you in caring for your children and the way you do things, try to make them part of what is going on. Make it very clear who your children can lean on, and who can reassure all of you, and who knows what your expectations are. Enlist that person, or people, from the start – your children will see you show them how you do things, so they know how to carry on what you do.